---
| Available Works |
---
Automotive Paintings
---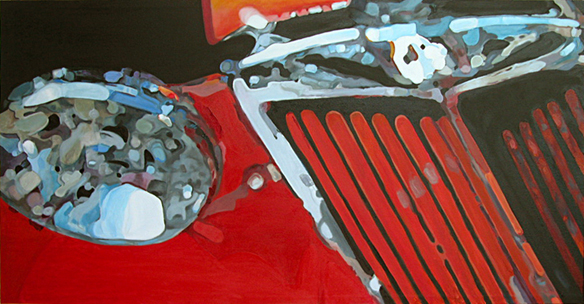 "The Red Car"
28" x 55" - Oil on Canvas
The T-Series M.G.
Small and relatively inexpensive British sports cars that captured the hearts
of young 'boy racers' in a post-war America.
---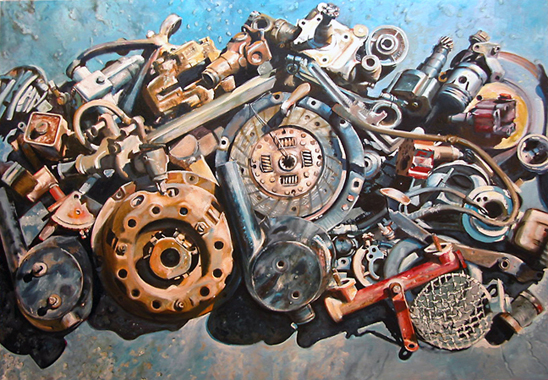 "Pile of Parts"
38" x 55" - Oil on Canvas
A Still Life With Clutches.
It's amazing what ends up in the junk box... and why do we keep it?
Actually, most of this was given away after a few photos. And of course
that's when you need some item you've just given away and the reason
you kept it all these years in the first place!
---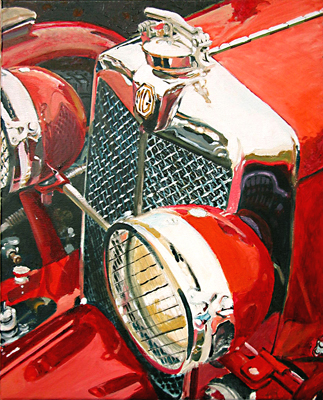 "Pete's NE"
20" x 16" - Oil on Canvas - Sold -
This car is one of seven NE Type M.G.s built in 1934
specifically for one race in Ireland. To his credit, the owner
continues to campaign the car in vintage racing events.
See other Available automotive works here.
---
Urban Paintings
---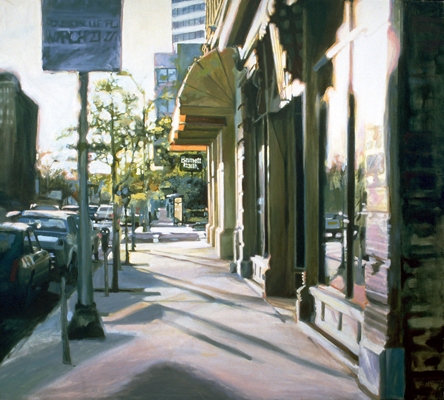 "Barnett Bank" Jacksonville, FL
37" x 40 1/2 " - Oil on Canvas - Sold -
---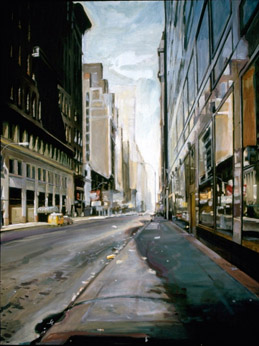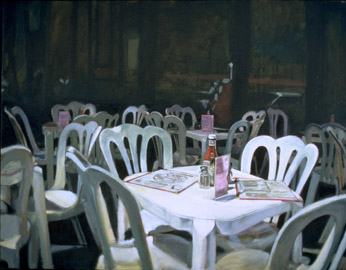 Left: "Midtown SundayAM" 35 3/4" x 27 1/2 - Oil on Panel
Looking East toward New Jersey. For a couple of hours
early on Sunday mornings the streets in mid-town are
as quiet as they ever get. But not for long.
Right: "Bedlam Bar" 22" x 28" - Oil on Canvas
This "Bedlam Bar" was located on the upper west side in the late 80s
and not the current bar of the same name lower on the island.
---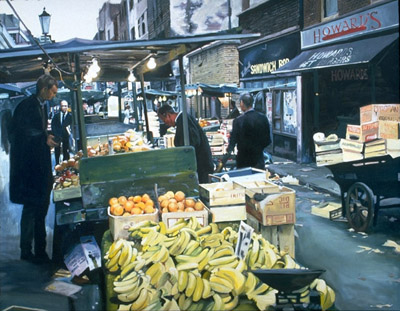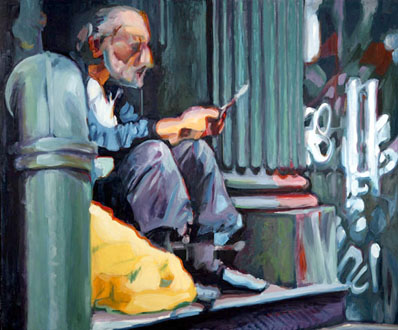 Left: "Bananas" Soho, London 44" x 55" - Oil on Canvas
From transparencies taken decades ago at the Berwick Street
Market, near Peter Street and Walker's Court in London's Soho district.
Right: "The Reader" SoHo, NYC 56" x 60" - Oil on Canvas
A 'Street Person' on the steps of one of the cast iron clad buildings
reads a letter in this 1999 painting.
---
To see other available works or discuss prices and
shipping details contact: info at billdavisart dot com.
---
---
| Home | Recent Work | Paintings | Illustration | Galleries | Prints |