---
| Illustration |
---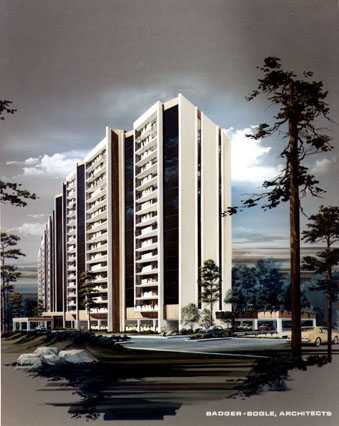 Architectural Illustration was both a career and passion for several years.
I was often allowed the freedom to create an environment around an
architect's project, picking and choosing the landscape to fit the drawings.
---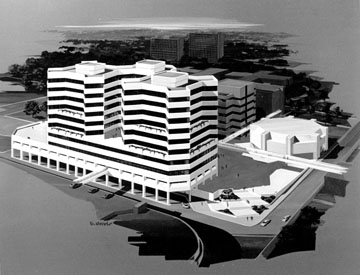 Proposed design for Vanderbilt University Hospital.
Early on in this project, the architects were unsure of brick colors but needed
something to show their client the design they'd arrived upon. Consequently
the illustration was completed using dark glass and cream colors. The B&W
illustration (shown here) was used in Vanderbilt and local media publications.
The medium for this and the high-rise above would have been gouache
on illustration board.
---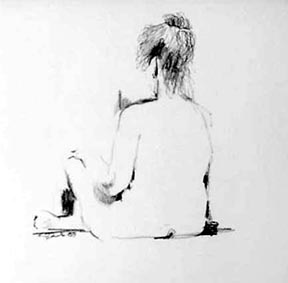 A pencil and felt tip life drawing is from the 1980s.
---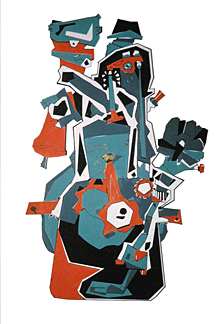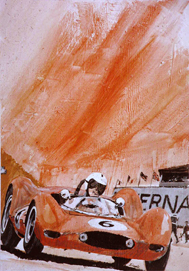 The Internal Combustion Engine &
Roger Penske's Zerex Special.
Both illustrations were created in the early 1960s and
used in college publications. The engine, a spoof on
the inner workings of a gasoline engine, was a collage
of colored paper and ink on board. The Zerex Special
an acrylic painting on illustration board. From an early
age automobiles have always played a important role
in my life and have often been the subject for
drawings and sketches.
---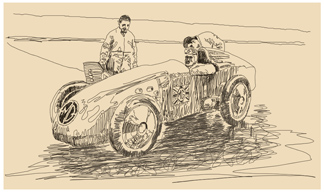 With the advent of computers artist's lives changed considerably!
And the substitution of a stylus for the mouse and graphic pad for
sketch book opened many new doors.
The source for this digital drawing was a photo of Capt. G.E.T. Eyston
in 1932 aboard EX-127, the "Magic Midget" and the first car of
less than 750 cc to exceed 120 miles per hour.
---
---
| Home | Recent Work | Paintings| Available | Galleries | Prints |
---
---
---
---
Web Site and artwork
are copyright © 2016
B. Davis