---
| Paintings |
---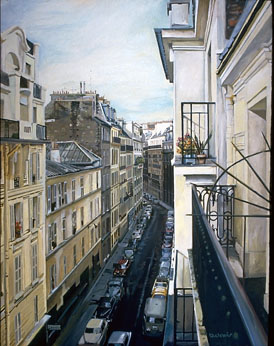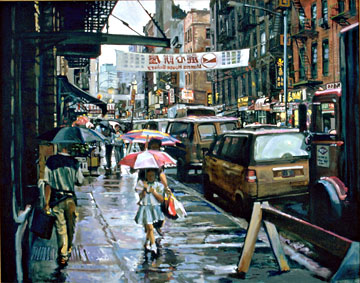 Left: "Paris / Window" 55" x 43" - Oil on Canvas - Private Collection
Right: "Manna House Bakery" 36" x 40" - Oil on Canvas - Private Collection
---
The photo-realism movement was just beginning to receive accepted recognition as I began my career as an artist. I looked longingly in that direction but with mouths to feed and bills to pay it would be almost twenty years before I made the transition from commercial illustration to painting. Realism in art was always an influence on my work whether in illustration or painting. I am equally impressed with the old masters, impressionists, and 'modern' photo realist painters. And to be able to combine realism with impressionism was the route I chose. I learned the value of sound perspective and composition through my years of Architectural illustration and in 1986 I began work as a painter.
---
"Canal at Courtlandt" 54" x 62" - Oil on Canvas
Private Collection - c. 1995
---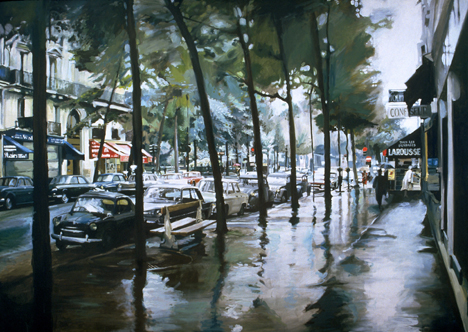 "Paris / Rain" 50" x 72"
Oil on Canvas - Artist's Collection
---
In that year my friend and fellow artist, Neal McPheeters, introduced me to NYC. I lived and worked in his studio and we visited galleries, explored SoHo and marveled at work by Goings, Estes, Close and would visit the Metropolitan to be blown away by the impressionists and old masters. My interest in architecture, automobiles and the excitement of New York City combined to offer the subject matter I wanted to paint. The following year I sublet a studio on the upper west side from another artist-friend. He preferred to live and work in NH and for a few months each year I used his studio. That continued until the mid 1990s when I moved to California.
---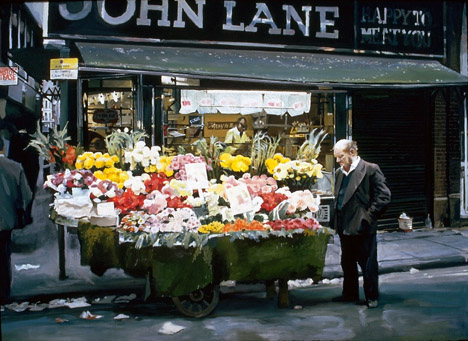 "John Lane" 31 1/2 " x 42 1/2 " - Oil on Canvas
Private Collection - Completed in 1987.
---
In southern California I continued to paint urban landscapes, still mainly NYC, for another two years. A few years after returning to Tennessee I began exploring still life. Older automobiles have always held a fascination for me and seemed as logical a progression as any. However, I didn't want to 're-create' the traditional automotive art most are familiar with but rather take a different approach, using automotive parts as the subject matter for this new direction. Examples can be found in "Recent Work".
---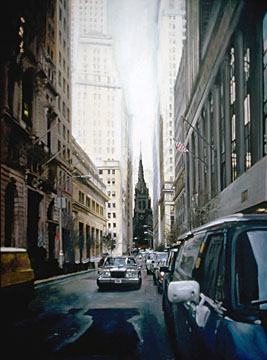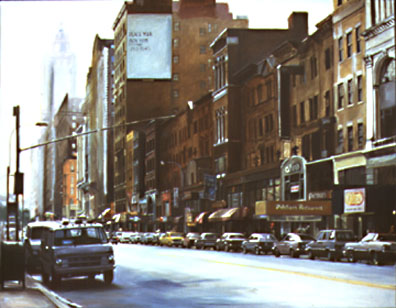 Left: "Wall Street/Trinity Church" 47" x 35" Oil on Panel
Right: "72 St. at Amsterdam" 56.75" x 72" Oil on Canvas
Both in Private Collections.
---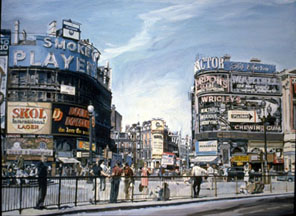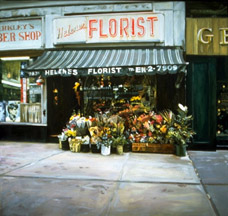 Left: "Piccadilly Circus" 36" x 48" - Oil on Canvas
Right: "Helene's Florist" 41 1/2" x 43 3/4" - Oil on Canvas
Both of these are in Private Collections. Piccadilly was created c. 1987.
Helene's, a tribute to Richard Estes, was created in 1999.
---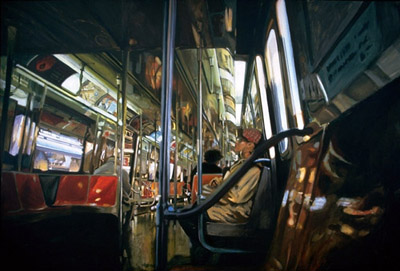 "D Train West 8th Brooklyn" 49" x 72" - Oil on Canvas
Corporate Collection - Completed in 1989.
---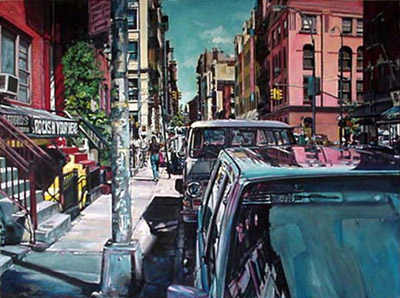 "Rocks In Your Head" 54" x 72" - Oil on Canvas
Corporate Collection - c. 1996
---
---
| Home | Recent Work | Illustration | Available | Galleries | Prints |
---
---
A Note About Copyrights
Want an image to print or put on your website?
Drop me a note! (bill at billdavisart dot com)
I'd love to know that you liked something here enought
to want one of these small low-res images. Otherwise;
All work © copyright Bill Davis 2011
---
---
---
---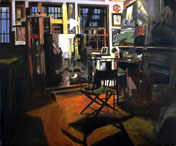 Web Site and artwork
are copyright © 2016
Bill Davis.