---
---
---
---
---
| The M.G. Car Company Ltd. |
---
"The M.G. Car Company Ltd."
The print was issued in a Limited Edition of 2700 in 1974.
200 impressions were signed and numbered.
The signed/numbered editions have long since been
sold but a few of the unsigned prints are still available.
---


"The M.G. Car Company Ltd."
26" x 40" - Brown on Cream stock
---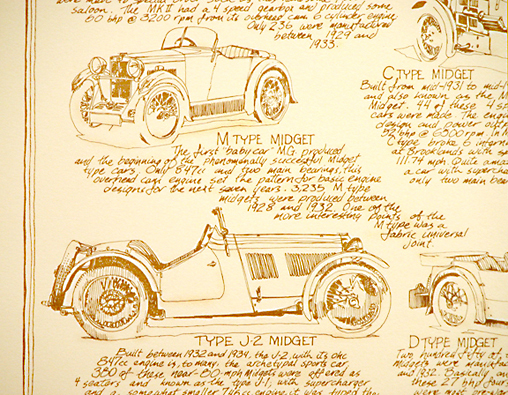 Detail: "The M.G. Car Company Ltd."
This 'pen and ink' print briefly describes the history of the M.G. Car Company
and illustrates 56 different models the company produced from 1923 through
the Chrome Bumper MGB of 1974.
Also shown are sketches of the founder, C. Kimber and four of the men
who were instrumental in designing, developing and racing M.G.s in the early
days along with some of the record breaking Specials they produced.
Available only from the artist.*
For price or more infomation contact: bd (at) billdavis dot org.
* A few editions are usually kept for sale at Lane Motor Museum in Nashville.
---
---
|
Home
|
Recent Work
|
Paintings
|
Illustration
|
Available
|
Galleries
|
---
---
---
---
Website and artwork
are copyright © 2017
Bill Davis