---
| Recent Work |
---
"Cadillac Ranch"
16 " x 20 " - Oil on Canvas
Heading west out I-40 beyond Amarillo Texas one can visit what
was at one time an interesting installation of semi-buried Cadillacs.
Unfortunately the purity of the 'art that was' has become
a magnet for anyone with a can of spray paint.
---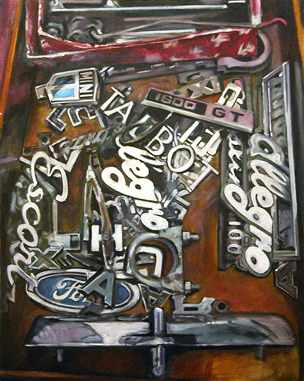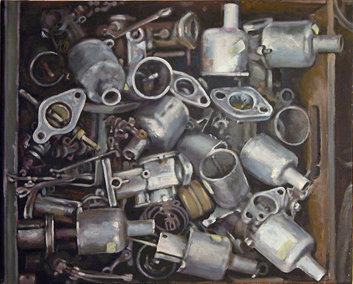 Left: "Badges" 20" x 16" - Oil on Canvas
Right: "Bone's Carbies" 16" x 20" - Oil on Canvas
A box of letters and chrome badges for sale at Beaulieu. And
on the right, an assortment of early SU carbs. They were a part
of Terry Bone's offerings also found at the Beaulieu Autojumble.
---
The cityscapes and urban scenes which dominated my work
for fifteen years have, for the most part, been replaced
by still life and automotive paintings.
And while the subject matter may have changed somewhat
the focus continues to be the way light, shadows and reflections
play across objects; the attempt to create a convincing
illusion of depth on a two dimensional surface.
The objects for the still life are selected from my surroundings
such as the carbs below and other odd items of interest to me;
the ever-present bits and pieces -or at times, piles- of
car parts in the garage or studio.
---
Left: "Side Lamps " 16" x 20 " - Oil on Canvas
Right: Old Lucas Lenses" 20" x 16" - Oil on Canvas
These boxes of Lucas bits were for sale some years ago at the
Beaulieu Autojumble. Comprable to the Hershey Swap Meet in the USA,
Beaulieu is THE place to find parts for old British machinery in the UK.
The old side lamps were only 1£ each! What a bargin.
---
Just as urban landscapes held my attention for so many years,
a life long fascination with sports and racing cars, machinery
and mechanical 'things', now offer an endless supply of subject
matter for painting and another interesting direction to explore.
---
Aproximately 8" x 10" - Medium Res Digital Image
Not every new work is 'tangable'!
---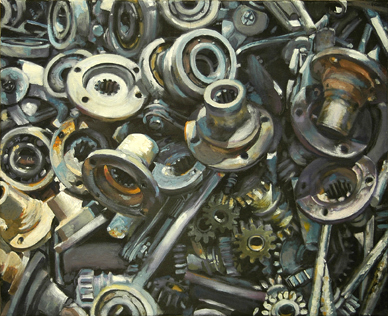 "Transmission Gears"
16" x 20" - Oil on Canvas
From working transmissions to a pile of gears.
These were removed from a number of MGB transmissions to be sorted,
cleaned and sold as spares by a friend in Arkansas.
---
---
| Home | Painting | Illustration | Available | Galleries | Prints |
---
---
---
---
Web Site and artwork
are copyright © 2016
Bill Davis